Latest
Costa is Latest Cruise Line Planning to Adopt Methanol Fuel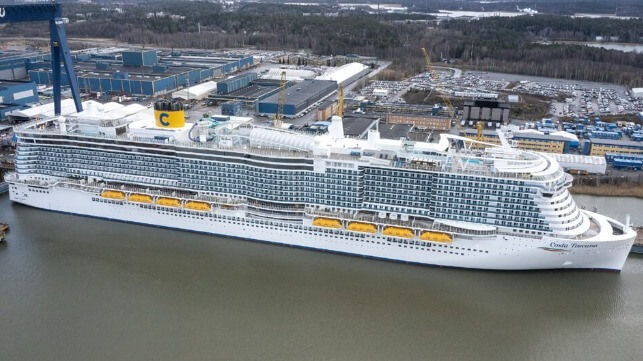 Carnival Corporation's Costa Group, which manages Costa Cruises and AIDA, is taking steps to support the cruise industry's adoption of methanol as a marine fuel. Costa will work with methanol producer Proman to advance methanol supply and development for the cruise industry. Costa joins others, including Germany's TUI Cruises, Disney and Norwegian Cruise Line Holdings, who have also expressed interest in switching to methanol to fuel their cruise ships.
Through the partnership, Costa and Proman aim to accelerate the energy transition and decarbonization of the existing cruise fleet by improving the supply of sustainable methanol. They want to pave the way for retrofitting existing ships to run on alternative fuels, as well as investing in more new builds that run on methanol.
As one of the most traded chemical commodities, the companies emphasize that the infrastructure for supplying ships with methanol could be taken over by the existing infrastructure. All forms of methanol, whether natural gas-based, low-carbon or renewable, can be mixed regardless of the production routes. Costa and Proman believe that the existing technology and infrastructure will enable a reliable transition from today to fully greenhouse gas neutral cruise ships in the near future.
"The technology to retrofit a ship to accept methanol as a fuel is available today," said Tim Cornelius, Proman's managing director of corporate development. "Methanol fueled ships have a proven track record of reducing and eliminating key greenhouse gas emissions and delivering immediate air quality improvements in major ports and shipping lanes. We look forward to bringing our expertise along the entire methanol value chain to fulfill Costa Group's ambitious ambitions."
Both Costa and AIDA operate dual-fuel vessels built for full-time use of LNG as their primary fuel. AIDA introduced the first LNG-powered cruise ships and built first ships using LNG delivered by tanker trucks while the ships were in dock in Japan in the mid-2010s. In 2018 the AIDAnova became the first cruise ship capable of running full-time on LNG, and the 180,000 gross tonne ship was the prototype for Carnival's LNG vessels. AIDA added a second LNG-powered ship, both built at Meyer Werft in Germany, while Costa built two similar ships at Meyer Turku in Finland. Carnival Corporation will have nine ships capable of full-time LNG operation by the end of 2023, as well as the two AIDA ships capable of LNG operation in dock.
As pioneers in reducing emissions in the cruise segment, both cruise lines are pursuing a variety of programs. AIDA recently became the first to conduct large-scale testing of biofuel, and is also investigating batteries and other power systems, as well as the widespread use of shore power when available in port.
"We are reducing our fleet's carbon footprint in port and at sea, investing in advanced environmental technologies and working with companies like Proman who share a passion for a sustainable energy transition," said Dr. Christoph Schladoer, VP Decarbonization Costa Group. "By enabling cruise ships to use methanol as a propulsion fuel, Costa aims to take the next big step towards carbon neutral operations of our fleet by 2050."
Last year, German TUI Cruises began building the first large cruise ship designed as a cruise ship methanol-ready. The 111,500 GT cruise ship, scheduled to enter service in 2024, will be built at Meyer Turku. The cruise line is also building two LNG-powered cruise ships in Fincantieri, Italy.
Other cruise lines are also trying to use methanol in their fleets. Norwegian Cruise Line Holdings has decided to sidestep LNG and focus on methanol, including a memorandum of understanding with MAN that envisages a multi-stage project studying the feasibility of methanol operation for cruise ships. As part of the project, MAN Energy Solutions will convert a medium-speed MAN 48/60 engine for dual-fuel diesel/methanol operation.
Disney Cruise Line also announced that the cruise ship Global Dream, acquired from bankrupt MV Werften, will be converted to run on methanol. Disney expects the 208,000 gross tonne cruise ship to be among the first in the industry to run on green methanol as it is scheduled to enter service in 2025.