Sport
Dempo SC holds Sporting in thrilling 2-2 draw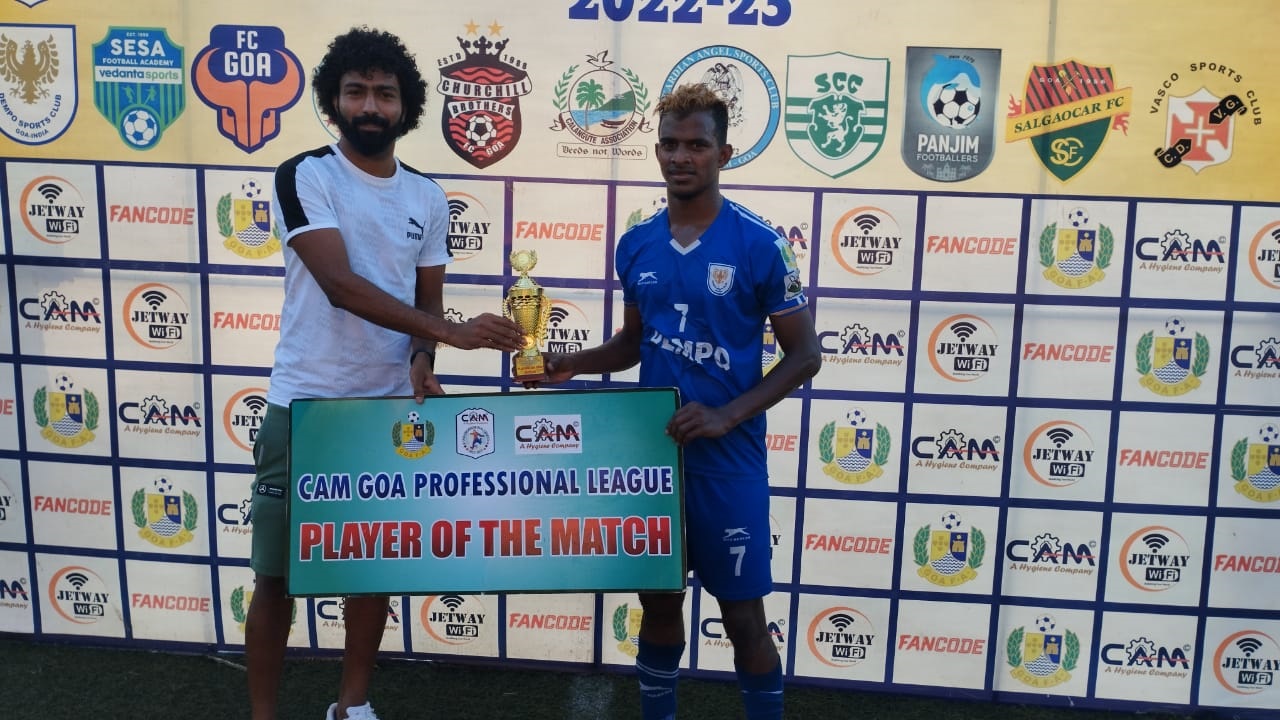 MARGAO
Beneston Barretto scored the last minute equalizer as Dempo Sports Club held an exciting 2-2 draw against Sporting Club de Goa in the CAM Goa Professional League (Super League) at Duler Stadium, Mapusa on Tuesday.
Earlier, Beneston put Dempo SC ahead in the 8th minute before two of their players, goalkeeper Dylan D'Silva and Vieri Colaco, were sent off with direct red bookings. Sporting Clube also had a mandown after Nickson Castanha received double bookings in the first session. Stendly Fernandes equalized just before the breather. Joel Colaco crossed Sporting Clube and put Sporting Clube ahead before Beneston scored a hard-fought point in the final minutes of the game.
Dempo SC stayed on top with 27 points from 14 games, while Sporting Clube stayed in second place with 26 points from the same games.
Beneston Barretto was named Player of the Match and the award was presented by ATK Mohun Bagan player Glan Martins.
relegation league
In another match on Nagoa soil in the battle for the relegation league, Guardian Angel SC defeated Velsao SCC in a five-goal thriller.
Velsao SCC led 1-0 at half-time thanks to Meuton Fernandes' goal.
In the second half, Velsao SCC doubled the lead in the 55th minute through Velroy Carvalho.
Guardian Angel SC put on a strong performance, scoring three goals to book a comeback win. Joel Barreto scored first and then Shubham Jena got it right in the 73rd minute before Bamba Musah scored the winner in the 79th minute.
Guardian Angel SC improved to 10 points from 12 games while Velsao SCC stayed at 11 points from 13 games.
Ave Maria A&WC emerge victorious
MARGAO: Ave Maria A&WC defeated Young Strikers Club, Benaulim 2-0 in GFA U-13 second division on Tuesday.
In the first half of the game, both teams tried to assert their dominance on the pitch. The Young Strikers Club tried to create chances, but Ave Maria A&WC defenders stood their ground and thwarted their attempts. As the game progressed, the pace picked up and both teams increased the intensity of their attacks.
Ave Maria A&WC managed to break the deadlock in the 44th minute when Dalston Rodrigues scored a stunning goal. The Young Strikers Club goalkeeper couldn't stop the powerful shot, the ball sailed past him into the back net.
In the 53rd minute, Ave Maria A&WC doubled their lead when Emanuel Carvalho scored a brilliant goal from a tight angle. The Young Strikers Club goalkeeper didn't get a chance to stop the shot and the ball landed in the back net again.