Latest
Fourteen FSU graduate students join latest cohort of McKnight Fellows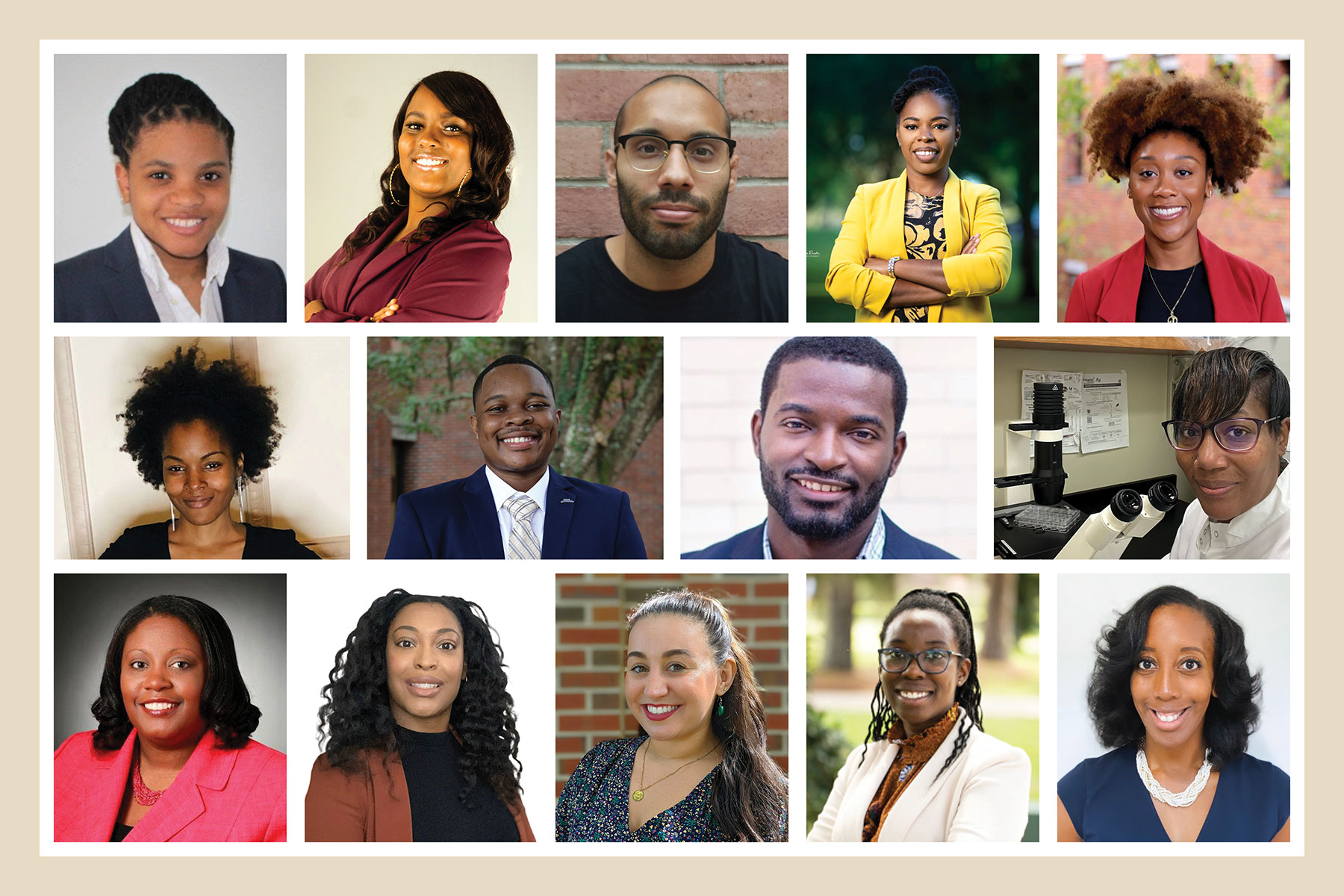 Fourteen Florida State University graduate students from underrepresented populations are part of the 2022-2023 cohort of McKnight Doctoral and Dissertation Fellows funded by the Florida Education Fund, or FEF.
The FEF's McKnight doctoral and dissertation fellowship programs are designed to address the underrepresentation of African American and Hispanic faculty at Florida colleges and universities by increasing the pool of citizens whose doctorates qualify them to teach at the college and university levels.
"The Florida Education Fund has a legacy of supporting the presence of Black and Hispanic scholars pursuing doctorates in critical disciplines through its McKnight Fellowship Program," said Adrienne Stephenson, associate dean of the Graduate School and director of FSU's Office of Graduate Fellowships and Awards . "Her efforts to promote teaching and research and to provide funding through her fellowship programs speak volumes about her longstanding commitment to diversifying the professorship."
The doctoral scholarship provides $17,000 per year in tuition, fees, and scholarships for up to five years. The Dissertation Fellowship Program provides up to one year of support with a grant of up to $12,000 to individuals working towards the completion of dissertations in STEM subjects.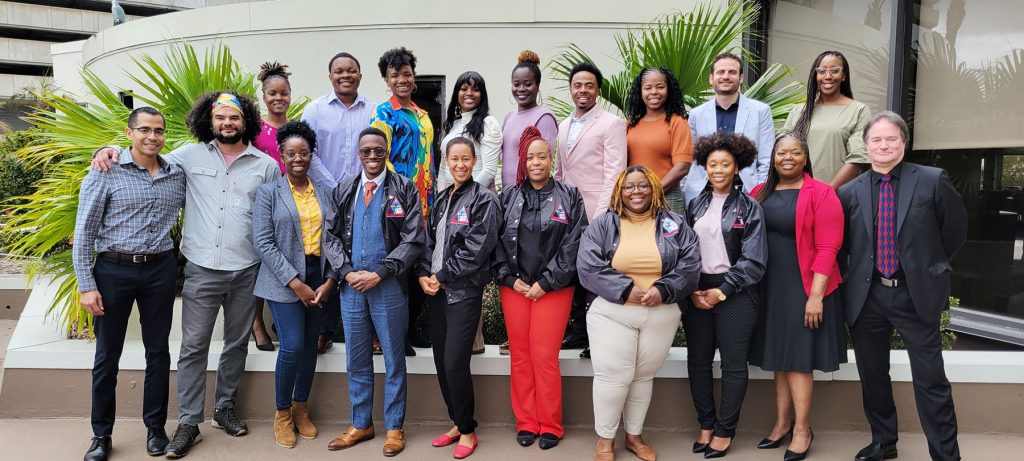 Florida State students have received 308 of the coveted scholarships to date, with 42 scholarship recipients currently enrolled.
Current fellows attended the 37th Annual McKnight Fellows Meeting in Tampa February 10-12. The conference addresses the needs of enrolled PhD students, research scholars and salaried professors. It is one of many opportunities available to grantees throughout the year to inform, educate and connect with fellow grantees, recent graduates, established professionals and industry experts across the country.
Adrianne Jackson received the McKnight Doctoral Fellowship in 2017 and graduated in 2022. She is currently employed with the U.S. Air Force in the Integrated Resilience Division as a preventive operations program manager, and she said the McKnight Fellowship helped strengthen her desire to finish her PhD.
"The McKnight Doctoral Fellowship enabled me to complete my Ph.D. without having to borrow money," Jackson said. "It also provided me with a network of academics and employers to work with during and after my PhD. The scholarship helped fuel my desire to pursue the Ph.D. and mentor budding scholars on their way."
Since its inception in 1984, the McKnight Doctoral Fellowship has awarded more than 1,500 fellowships and increased the number of African Americans and Hispanics earning doctorates in disciplines in which members of underrepresented groups have not historically enrolled and graduated.
---
McKnight PhD Scholarship 2022-2023 Recipients:
Gabrielle Haggins, College of Education, Higher Education
Haggins, the first in her family to go to college and the first to pursue a PhD, explores first-generation black college students' experiences of studying abroad and strategies for overcoming barriers that contribute to low study abroad participation rates lead among this group. Her work aims to provide resources to give students of color more opportunities to study abroad and experience the many benefits.
---
Sediqua Bufford, College of Medicine, Biomedical Sciences
Bufford's research focuses on precision medicine and advancing medical science with the goal of contributing to standardized, more efficient and affordable healthcare for all. Her goal is to discover biomarkers that can be used in translational research to provide interventions that address the disproportionate mortality rates in people of African descent. Upon graduation, Bufford intends to remain focused on solutions to racial disparities in health and access to health care.
---
Emilio Luis Carrero, English Department, Creative Writing
Carrero's research focuses on decolonial archival practices to recover lost history and culture. In particular, he uses creative methods such as poetry and nonfiction to imagine the stories and lives of marginalized communities that are often neglected or erased from public archives.
---
Johnnie Allen Jr., Normal School, Higher Education
Allen's research focuses on leadership experiences and development of black students in higher education, particularly black college men, and their participation in leadership learning, education, and mentoring programs. Allen's goal is to advance wealth-based approaches to the study of black college men and to deconstruct deficit-ridden research and perceptions.
---
Jhamieka Greenwood, Computational Science, Geophysical Fluid Dynamics Institute
Greenwood's research focuses on atmosphere-fire interactions within fire-induced flows to study variables that contribute to wildfire propagation. Her research aims to advance our understanding of wildfire behavior, increase predictability, and mitigate wildfire risks.
---
Charlisa Whyms, College of Arts and Sciences, Biochemistry and Molecular Biology
As a first-generation PhD student, Whym's research focuses on studying the structure and function of clustered regularly interspaced short palindromic repeats (CRISPR) Cas proteins. CRISPR proteins are used in revolutionary biotechnology and used in genetic engineering and diagnostics. As part of her doctoral program, Whyms aims to characterize a novel CRISPR protein.
---
Jasmine Smith, College of Communication and Information, Communication Studies and Disorders
Smith is part of the Florida Interdisciplinary Research Fellows, or FIREFLIES, through the Florida Center for Reading Research and focuses on research into language and reading development in children. She hopes to use her research contributions to support effective teaching, intervention, and assessment practices within education and the community to improve student outcomes.
---
Rodney Ndum, College of Business, Finance
Ndum's research focuses on corporate fraud and wrongdoing, the ways in which companies steal value from other stakeholders and the community at large. He has held several leadership positions including Vice President of the Finance and Economic Doctoral Student Association within the Ph.D. Project, a non-profit organization founded to increase the diversity of the business school's faculty. Ndum hopes to one day advance the political discussion in Washington through advice and testimony.
---
Brianna Alston, College of Arts and Sciences, Statistics
Alston is earning a degree in biostatistics, the branch of statistics that focuses on data on living organisms. She is interested in using statistical methods to improve medical imaging, which can lead to earlier detection of diseases such as cancer or Alzheimer's, and her ultimate career goal is to become a professor.
---
Margaret Re'Shaun Blake, Normal School, Curriculum and Instruction
Blake, a Florida Center for Reading Research FIREFLIES grantee, focuses on finding ways to build reading confidence and literacy skills in children early in life. A former teacher, Blake always wanted to expand her influence and pursued a Ph.D. at FSU has enabled her to do so.
---
McKnight Dissertation Grant Recipients 2022-2023:
Joshlyn Thomas, College of Education, Higher Education
Thomas conducts research on black women in high-level leadership positions at universities, including historically black colleges and universities. She examines how these leaders maintain and manage their positions within these institutions. Thomas graduated from FSU last fall.
---
Nikki Chappell, Business School, Accounting
As the first in her family to pursue a PhD, Chappell's research focuses on the impact of accounting standards and regulations on financial and regulatory reporting and institutional operations. She is a Chartered Accountant with over 20 years' experience and is currently investigating the impact of a recent change in accounting rules on bank lending to ethnic minorities.
---
Nicole Zampieri, College of Social Sciences and Public Policy, Geography
Zampieri, a first-generation American and college student of Nicaraguan descent,'s research investigates the patterns and drivers of structure, function, and diversity within Scots pine ecosystems. These ecosystems are important reservoirs of biodiversity and ecosystem services and are among the most vulnerable ecosystems in North America. The tree species Scots pine is endangered worldwide. Zampieri's research focuses on advancing our understanding of how these ecosystems can best be managed and restored to maintain their viability and service delivery.
---
Tiffaney Tomlinson, College of Criminology and Criminal Justice
Tomlinson's research examines job-specific social capital and its impact on prison staff. Her work aims to contribute to scholarship by advancing the literature on the experiences of people in prisons, along with those charged with care, to inform the policies and practices applicable to contemporary prisons and the social orders contained therein are aligned.
---
To learn more about how graduate students can fund their academic interests, visit FSU's Office of Graduate Fellowships and Awards at ogfa.fsu.edu.
For more information on the McKnight Doctoral and Dissertation Fellowship programs, visit ogfa.fsu.edu/about-us/mcknight-fellowships.