Guide
How To Be a 'Good Ancestor' | News
At New Zealand's first clean energy conference, NREL joined forces with experts and leaders from the US and New Zealand to discuss social and financial barriers to decarbonisation

---
Near the northern tip of New Zealand's moon-shaped island nation, the sea pushes the land at a place called Tāmaki Makaurau, which in the indigenous Māori language means 'Tāmaki coveted by many'. It's an accurate nickname. More than half of the Tāmaki Makaurau region is either green or blue. Lush grasses cover the volcanic slopes and powerful surf breaks along the shores. The Māori call themselves Tangata Whenua, or "people of the land".
But now this country is in danger. Climate change is already wreaking havoc on the weather and waters of Tāmaki Makaurau, causing even more extreme storms, flooding and rising sea levels.
This vulnerable beauty made it a fitting location for the world's first Blue & Green Technology Conference, held in December 2022.
Sponsored by both the US Department of State and Auckland UniServices Ltd., a research and commercialization company based at the University of Auckland in New Zealand, the conference was intended to bring together clean energy technology experts and government and community leaders from the United States and New Zealand – helping to accelerate the global transition to a low-carbon and climate-resilient future.
"Both of our countries are passionate about being good environmentalists," said Thomas Stewart Udall, the US Ambassador to New Zealand, during the opening session of the conference. "Climate change is an existential crisis, especially in the Pacific, and this conference is about exploring smart solutions and working together to address the challenge head-on."
Tessa Greco from the National Renewable Energy Laboratory (NREL) was invited to present solutions during two conference sessions titled "Community and Indigenous Innovation" and "Energy Futures". Greco, manager of the strategic innovation and outreach sub-program and hydropower group leader at NREL, joined speakers from tech startups, indigenous communities and the highest levels of government. (New Zealand's then Prime Minister Jacinda Ardern opened the conference with a virtual welcome.)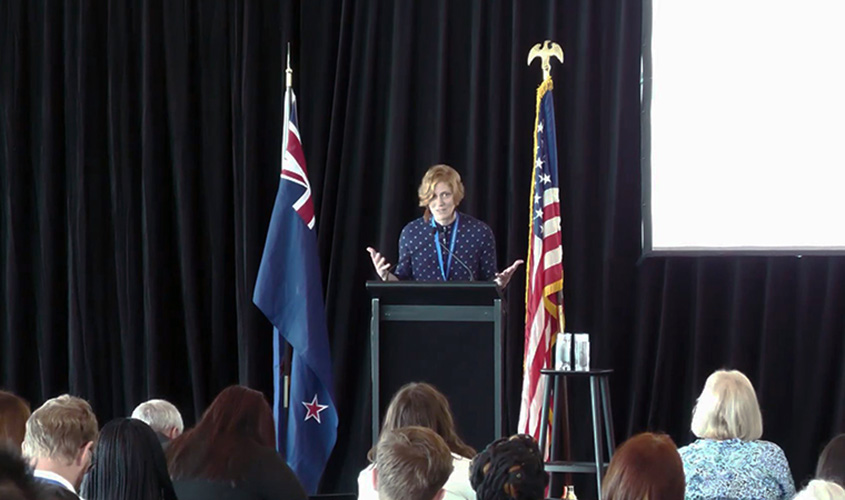 Greco has spent more than a decade leading and directing research into renewable energy – from hydropower to wind power, solar power, batteries and energy systems engineering. In the first session, she and her colleagues discussed what clean energy experts can learn from indigenous communities and cultures like the Māori who believe in "being a good ancestor," as panelist Daniel Hikuroa, a senior lecturer at the University of Auckland said. Māori already prioritize preserving their rivers, mountains and trees for future generations.
"Being a good ancestor is a mindset consistent with a worldview that sees you as part of nature, not separate from nature," Hikuroa said.
Panellists also discussed the need for Indigenous communities to drive their own clean energy transition. "The fly-in fly-out model is not acceptable," Greco said in her presentation. She described the US Department of Energy's Energy Transitions Initiative Partnership Project, through which technical experts work with remote and island communities across the United States to help them meet their clean energy goals — or, as Hikuroa would say, good ancestors be.
In Greco's second session, she was joined by speakers from tech startups, climate nonprofits and companies working to harness waste, offshore wind and wave energy – the "blue" technology referenced in the conference name. Speakers primarily focused on how countries and companies could invest more in renewable energy technologies, both to accelerate clean energy adoption and to ensure transitions are just and equitable.
"This is critical to any effort we're going to make going forward," Greco said, citing the US government's Justice40 initiative, which aims to achieve 40% of the total benefits of certain federal investments (including those in clean energy and energy). efficiency) for disadvantaged communities.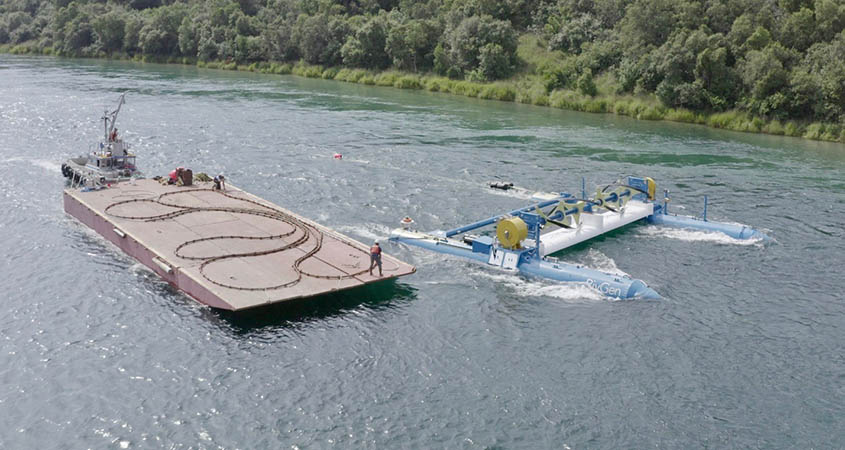 Greco also explained how the US Department of Energy uses rates administered by NREL to invest in researchers, entrepreneurs and community members who typically do not have access to traditional funding opportunities. For example, in the Waves to Water Prize, participants competed to create a device that can produce clean drinking water from seawater by harnessing the power of the ocean itself.
"We've had some great successes and also faced great challenges," said Greco, adding that all four rigs became detached from their moorings during the final offshore test run. "During the final test, the ocean proved to be a formidable opponent. But in this battle with nature we have learned so much."
Through this and future Blue & Green Technology Conferences, New Zealand and the United States plan to continue sharing successes and failures – whether in research, community partnerships or investment plans. The United States, Greco said, could learn from New Zealand's efforts to harness its robust geothermal resources and from the country's native communities as they take charge of their energy transition. The United States, on the other hand, can provide New Zealand companies and researchers with the resources they need to test their green and blue technologies on a larger scale.
"Everyone has to come to the table," Greco said.
learn more about the support that NREL provides to indigenous communities. And check out the latest results from the lab advances in hydropower. Subscribe to the NREL Hydropower Newsletter, The current, so you don't miss a hydropower update.