Latest
Latest offensive remark, followed by dubious apology, does not speak well about the state of Boston sports radio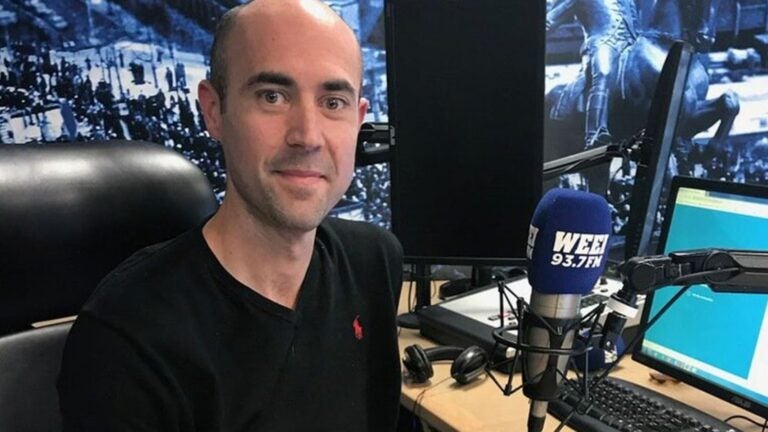 I suppose it's plausible that Chris Curtis' awkward and vague apology for a racially offensive joke on Tuesday morning's WEEI's "The Greg Hill Show" was the whole truth.
After all, this is someone who several years ago once "won" back-to-back "Battle of the Brainless" contests on the network's previous morning program, "The Kirk and Callahan Show." If he was ever hungry for knowledge, he was dehydrated a long time ago.
Curtis, an executive producer and on-air personality, let out a meandering mea culpa at the start of Thursday's program after he chimed in on Tuesday's discussion about the hosts' favorite "nips" – small bottles of alcohol, and blurted out, "Oh, I'd probably choose Mina Kimes."
Kimes, a thoughtful, funny NFL analyst who has one of the highest approval ratings of anyone at ESPN, is of Korean descent on her mother's side. "Nips" can be used as a swear word for Japanese. The dots of presumed intent were not difficult to connect.
During his apology Thursday ahead of the start of a week-long suspension, Curtis explained that he didn't mean to say Kimes' name, but rather actress Mila Kunis.
I first received that statement on Wednesday, when a spokesman for Audacy — WEEI's parent company — sent an email indicating that Curtis had intended to use Kunis' name. My reply: "That doesn't make any sense." That ended the correspondence.
Kimes, who was unaware of the comment until later Wednesday and had never heard of Curtis, changed her Twitter profile picture to one of Kunis in response to my incredulous tweet about Audacy's balloon of explanation. It's a shame she got involved, but she couldn't have handled it better.
So it came as a bit of a surprise here when Curtis said on air Thursday that that was indeed his intention — to comment about Kunis, not Kimes, to whom he repeatedly apologized to a regional radio station 3,000 miles from where she works was.
"I tried to approach Mila Kunis, which wasn't really funny, [it was] Sophomoric and sexist, but for reasons I don't understand, I said 'Mina Kimes,'" Curtis said. "It was never my intention to say her name."
What Curtis didn't do was explain what his heckling about Kunis meant. On the other hand, what rational explanation could he possibly have had? "No, look, that's not a racist joke, it's a sexist to kid. I wanted to humiliate another woman and I think I'm sorry if I offended you."
You know a "joke" should be swallowed rather than spoken when the In the best case Scenario is that it's misogynistic and you can't even come up with a bumbling explanation for why you said it.
Curtis' apology was blunt at best, and the public embarrassment of the matter will likely be more of a chilling factor than his week-long suspension without pay. I'm not calling for a dismissal here, but the apparent rate of a week-long hiatus on the channel for a racist or sexist comment is pretty low. It's not as if the show, which oscillates between a chore and a boredom most days, would suffer without its overbearing presence.
While Curtis' explanation of Kimes and Kunis' juxtaposition was dubious, even if he's ultimately telling the truth, the most irritating part of the apology actually came from the person whose name appears on the show.
As Curtis concluded his circular apology and prepared for his week in the sports radio penalty box, Hill said, "I agree with you, Curtis, that this is not what this show is and that is not what this radio station is ."
WEEI has been a better place since Mike Thomas returned to the market in October 2021 as executive vice president and market manager for Audacy Boston. Thomas and operations manager Ken Laird have tapped talented women, including The Morning Show's Courtney Cox and Afternoon Drive co-host Meghan Ottolini, for prominent roles. There has been progress.
But the stains of the past, most notably former hosts Gerry Callahan and John Dennis' comparison of an escaped gorilla to Metco busing students 20 years ago, have not been entirely erased. Curtis' comment, whatever the intent, will ensure that the station's old reputation will last a little longer. Funny how the line "That's not us" usually comes after someone has revealed exactly who they are.
Of course, this isn't just a WEEI thing. Just over a month ago, 98.5 The Sports Hub host Tony Massarotti was suspended for making a racially insensitive comment. It's a sports radio bro culture thing where daytime program hosts have four hours a day, five days a week to fill them in, leaving plenty of room for misguided attempts (at best) by people who It's not sure how to be funny and edgy when they can't be rude or demeaning.
Last month it was Massarotti. This month, Curtis. And the hypothetical whiteboard that read "Days since a Boston sports radio host had to apologize for a racist or sexist comment" was reset to zero.
We're hoping, at least for the sake of Boston's reputation, that we can make it through April without having to reset it again. It's all so brainless, and until it finally stops, that's what they are, and that's what people will think elsewhere too.
Loading…