Guide
Next Open Dialogue Live to explore how Dal researchers are closing gaps in health care – Dal News
To anyone who's visited an emergency room or followed the news over the past few years, it's no secret that cracks in healthcare are becoming gaps, such as: B. access to reliable therapies, data and medical care on the front line.
Dal researchers are taking bold steps to close these gaps and create opportunities that impact health regionally and nationally.
dr Brendan Leung, Associate Professor in the Department of Applied Oral Sciences at the Faculty of Dentistry and School of Biomedical Engineering at Dalhousie, is one of them. He works on growing laboratory replicas of patients' tumors using their own cells. This could lead to better and faster outcomes and change when and how patients are treated.
"If we can better understand and model the different stages of tumor progression, from early tumor to metastasis, we could optimize our treatment strategies to achieve better patient outcomes and fewer side effects." explained.
dr Leung is one of the panelists from health researchers who will speak about these efforts at Dalhousie's Open Dialogue Live on February 23: "Building strong health results through research." This in-person and online event will provide insights into how Dalhousie is the Drives health education, care and research to achieve better outcomes for people, communities and the health system.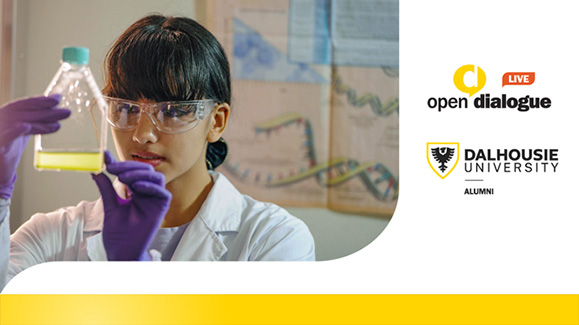 achieve patient treatment goals
dr Brenda Merritt, Dean of the Faculty of Health at Dalhousie, will moderate this event. She believes that the best way to achieve strong health outcomes for everyone is to invest more resources in preventative measures, policies and approaches.
"We need to figure out why so many people are in the ER and how, through early intervention or treatment, we can make an impact on the chronic health conditions that bring them there," she says. "That would be my dream."
Dalhousie researchers like Dr. Kenneth Rockwood, a professor in the Department of Geriatric Medicine at Dalhousie, are making strides toward realizing that dream. dr Rockwood explores the relationship between frailty and dementia and how to return patients to where they were before they got sick. But dr Rockwood says there's another outcome that should be equally considered: Are the treatments meeting each patient's goals?
"People come to us expecting that we'll heal them in a way that will bring them back to where they were before they got sick," he says. "But if we don't know the baseline for that patient, we can't define success."
research into disease prevention
Other Dalhousie researchers are also investigating ways to prevent disease. dr Leigha Rock, director and assistant professor at the School of Dental Hygiene, Faculty of Dentistry, is working to identify genetic factors — known as biomarkers — that could help predict who is at high risk of developing oral cancer. She's also leading Dalhousie in a multisite study to see if the treatment can prevent the development of disease in those at risk.
"[Participation] is an important achievement not only for our faculty and university, but also for our region," she says. "Given that the incidence of oral cancer in Atlantic Canada is disproportionately higher than the rest of the country, we have an opportunity to leverage our resources at Dalhousie to make a difference."
for dr Jeanette Boudreau, a Cameron cancer scientist who also serves as scientific director of the Beatrice Hunter Cancer Research Institute, makes a difference by using the body's immune system to fight cancer. She is particularly interested in the potential of white blood cells, known as natural killers (NK) and proven effective in treating leukemia.
"There are great immunotherapies for diseases like skin cancer and some types of lung cancer," says Dr. Boudreau, Associate Professor in the Departments of Microbiology and Immunology and Pathology. "But for other types of cancer, like pancreatic cancer, there are no good immunotherapies. Part of this has to do with the limitations of what existing immunotherapies can do."
Identifying the NK cells that could target and kill a wide range of tumors is an ambitious endeavor – one made possible through collaboration with other Dalhousie researchers and shared resources. dr Boudreau says key support and complementary expertise will drive healthcare innovation with far-reaching implications.
"The more complicated this work gets – and drugs have always been complicated – the more people you need to get there," says Dr. Boudreau. "At Dalhousie, we have a range of expertise that not only brings treatments from the lab to the patient's bedside, but also brings insights back from the bedside so we can do better. This allows us to develop new treatments that will benefit patients not only in Atlantic Canada but around the world."
Open Dialogue Live: Building Strong Health Outcomes Through Research takes place on Thursday, February 23, 2023 at the Sir Charles Tupper Medical Building, Theater C, 5849 University Avenue, Halifax. It will be streamed online at the same time. Registration is free but required for both in-person and online participation.
Panelists include:
dr Leigha Rock (above second from left), Director and Assistant Professor, School of Dental Hygiene, Faculty of Dentistry, Dalhousie University
dr Brendan Leung (second from top right), Associate Professor in the Department of Applied Oral Sciences, Faculty of Dentistry and the School of Biomedical Engineering
dr Jeanette Boudreau (above, far right), Associate Professor in the Department of Microbiology and Immunology and in the Department of Pathology
dr Kenneth Rockwood (above, far left), professor in the Department of Geriatrics in the School of Medicine and in the Department of Community Health and Epidemiology in the School of Health Administration.
The event will be moderated by Dr. Brenda Merritt (above center), Dean of the Faculty of Health at Dalhousie.