Best
On the national scene, Tim McCarver was one of baseball's best analysts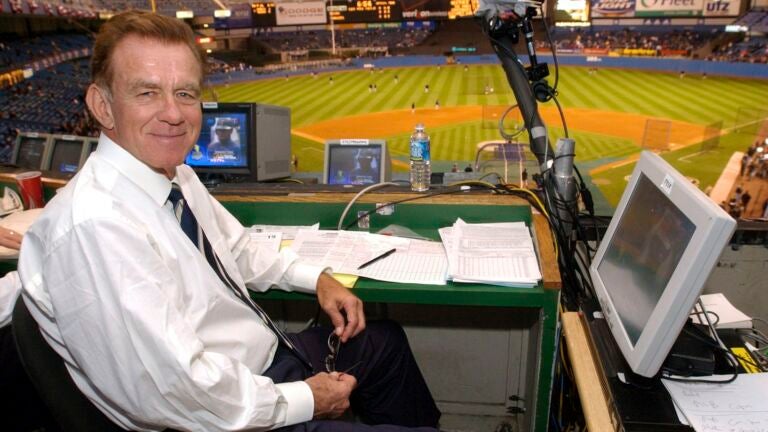 If you need another reminder of how lucky we were during the years that Jerry Remy and Dennis Eckersley were the color analysts on NESN's Red Sox television shows, consider the following:
In Tim McCarver's memoir, after the Baseball Hall of Fame announced Thursday that the four-decade-old MLB catcher and three-time Emmy Award winner had died at the age of 81, he was repeatedly named the top baseball color analyst of all time praised.
On a national level, that's probably true. I had a crush on NBC's thoughtful Tony Kubek growing up in the '80s, and Joe Garagiola was a charismatic storyteller. But I'm not sure who else even comes close to an early McCarver in terms of sheer insight.
Joe Morgan on ESPN? Only if you wanted a pitch identified ("That was a slider, Jon") or enjoyed hearing someone bitch about analytics. John Smoltz now at Fox? He's not bad, although he can turn a show into his personal complaint box. Ron Darling (TBS) and David Cone (ESPN) are smart, welcome associates, but neither is the size McCarver was.
Give me Remy or Eck – or rather Remy and Eck together – above all.
McCarver, who won the Hall of Fame's annual Ford C. Frick Award for meritorious baseball broadcasting in 2012, was really great in the dressing room. . . but it's understandable if Red Sox fans of a certain age don't remember him as such.
His broadcasting career was long—it began shortly after his playing career ended in 1980 and lasted long enough to call 24 World Series for ABC, CBS, and eventually Fox, where he worked with Joe Buck from 1996 until his retirement for the Reds' victory Sox on the Cardinals in the 2013 World Series.
Early in his career, particularly as a regional broadcaster for the Mets in the 1980s, McCarver earned his reputation as the thinking fans' favorite color analyst. He was succinct and candid, articulating the nuances of the game from the perspective of an old catcher. He had an uncanny talent for anticipating what would happen.
It was obvious that McCarver would have been a successful manager had he chosen this path. His warm Memphis drawl and willingness to laugh — Sean McDonough always knew how to make him laugh when they got together at CBS in the early '90s — made him an easy listener.
But later, especially during the height of the Red Sox-Yankees rivalry in 2003-04, he could be frustrating. Sometimes he would pound topics of conversation into fine powder. His expertise was sometimes condescending. And has he ever flattered Derek Jeter?
McCarver's career was ending just as social media was gaining momentum. During a conversation in his trailer before a 2013 Red Sox-Tigers American League Championship Series game at Tiger Stadium, he admitted he was aware his approval rating wasn't as high as it used to be, but said he was must be able to accept criticism if he hands it out himself.
"It's escalating. It's getting worse," he said. "I don't see the good or the bad, but we're all in this boat. Anyone who is a broadcaster is in this boat. Some might be more vitriolic. But anyone who voices an opinion gets their share."
McCarver was a nice man who changed baseball broadcasts for the better with his ability and willingness to provide real insight
I only wish he had never felt the need to tell us how calm Jeter's eyes were.
Free agent pickup
Speaking of Jeter, Fox's MLB broadcast team should have an interesting dynamic now that the Yankees legend has signed.
The network introduced Jeter as the new studio analyst during its Super Bowl pregame show last Sunday. He will join Alex Rodriguez, David Ortiz and Frank Thomas on studio programming along with presenter Kevin Burkhardt, although Jeter appears to be primarily sticking to covering major events.
Jeter and Rodriguez had a complicated relationship while with the Yankees. Though they claim to have patched fences, Jeter is a Hall of Fame-level grudge holder and A-Rod is an expert at putting his own shoes in his mouth, so there might be some pleasantly awkward moments there.
The eyes have it
Final viewership for Super Bowl LVII was predictably huge. The Chiefs' thrilling 38-35 win over the Eagles was watched by 113.1 million viewers across all platforms, including 112.17 million on Fox's on-air broadcast. That was 1 percent more than viewership for Super Bowl LVI last season.
The most-watched Super Bowl in history remains the Patriots' 28-24 win over the Seahawks in Super Bowl XLIX. This game had a viewership of 115.8 million on NBC. That's a lot of people who saw Malcolm Butler become an instant Super Bowl legend.
Loading…