Sport
SA Horseracing Mourns Passing Of Herman Brown Snr
One of South Africa's greatest racehorse trainers, Herman Brown Snr, died on Saturday March 25 at the age of 93.
While the always smartly dressed coach always wore a hat in his professional days, he endured a tough upbringing in the southern suburbs of Johannesburg.
His father, also Herman, had a small horse chain and he advised his son to move on when he was 18.
After a few years in Port Elizabeth, Herman Brown moved to the Newmarket stables in Durban and then to Summerveld alongside Fred Rickaby.
In a tribute to a man he described as a "second father," multiple SA champion jockey Michael Roberts told the Sporting contribution that the best thing that happened to him early in his career was becoming a master conditioner.
"Back then, trainers applied for apprentices. I was very fortunate when my name was given to Mr. Brown. He was a master rider, a gentleman and a man who knew how to deal with people. I became his son for the time I was apprenticed to him. Those were Gatecrasher days and I remember that while trainers were then limited to 40 horses Mr Brown had a whole bunch of top horses – Glenever, Best Ever, Beacon Isle – they were all top notch."
Herman Brown stated that Michael Roberts was the best with Basil Marcus to have driven for him.
"Michael, an Afrikaans boy from Oudtshoorn, was taken by my wife to language classes so he could learn English when he was at Jockey Academy in Mariannhill," Mr Brown once said in an interview.
In conversation with the Sporting contributionsaid Gr1 winning coach Michael Roberts that he still applies the principles he learned then to his job today.
"Mr. Brown's garden was called 'Ups 'n Downs'. Some things in racing last forever!" he smiled.
"Mr. Brown talked to me on Mondays. He would explain what I did right – what I did wrong. What I said, what I shouldn't have said. It was an education that laid the foundation for my success."
The champion jockey recalled that John and Mary Liley were the top Brown patrons of his day and that David Payne was the stable jockey.
"They had Bold Monarch, Sun Monarch – too many top horses to list them all. Only six months ago I picked up Mr Brown and brought him back to the old farm in Summerveld. He was frail but always sharp-witted. He enjoyed it – we remembered all the animals I would keep – the pigs, the goats, the doves – heaven knows what we had in there," Muis smiled as he fondly remembered a gentleman who clearly made a big impression on his life.
For the past several years, Herman Brown has lived with his daughter Louise and his 70-year-old wife Thelma.
Looking back, we realize that he really did have some incredible horses in his line.
Names like Foveros, Turnocat, Rock Star, Glenever, Forty Winks, Bold Monarch, Sun Monarch, Wave Crest, Jet Pilot and others are part of the fabric of SA racing.
But Mr. Brown always said Gatecrasher remained the best horse he ever trained.
"He had big, sweeping strides but had problems with his legs. I had to bandage his legs and apply ice every day," he said.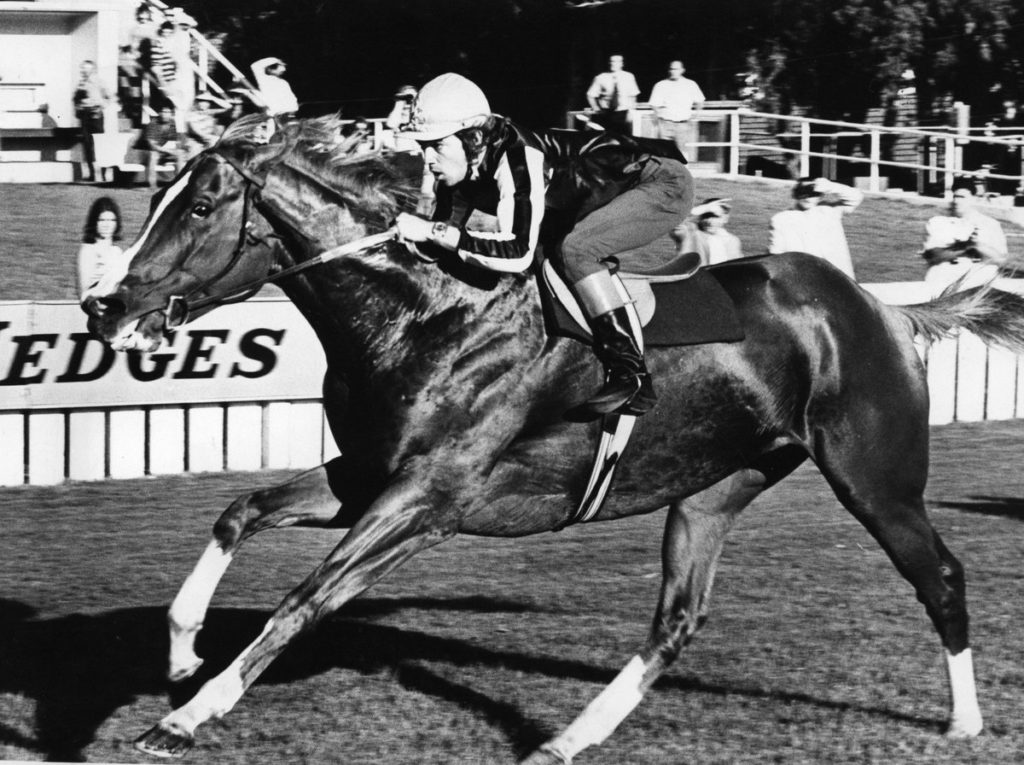 Although Gatecrasher, pictured abovehis favorite son of Kirsch Flambee also gave Herman Brown the most heartbreaking moment of his career.
The Durban July was the only breed that eluded him.
In an interview a few years ago, he recalled that Gatecrasher sewed up July 1975.
"He was in front, yelling at the post and I had instructed his jockey, Garth Puller, not to use the whip in his right hand because the horse would drift and change his gait," Herman said.
"In his excitement, Puller did just that, sending Gatecrasher sideways to disrupt Distinctly on the inside rail. Our moment of joy was cut short when an appeal was upheld and we were relegated to third place."
Herman Brown held no grudges and recognized that rules are rules, you win and you lose – and he lost that day.
While it's one of the ultimate trophies, he enjoyed seconds at best in July with Bold Monarch (1977) and Versailles (1984).
Gatecrasher and Foveros gave him two Metropolitans, and he won the Queen's Plate three times and the Cape Guineas twice.
Veteran racer Selwyn Elk said so Sporting contribution that he would miss his "old friend".
"He was one of the few guys left from my time. They don't make them like Herman Brown anymore. There are too many prima donnas these days," he added, before sharing a story about being invited with Buller Benton and Herman Brown to the then-opening of the Wild Coast Casino.
"We weren't allowed to talk about races when using the landline at Clairwood's administration office. So I called my soon-to-be ex-wife and almost had to explain in Morse code where I was, who I was with, and where I was going. Herman had a good laugh. He was such a man and a gentleman at the same time," recalled Selwyn Elk, who kindly provided the image below of a cartoon by Jock Leyden that appeared in the Daily News on Monday after Gatecrasher hit a pothole in Clairwood and had to be scratched from Durban July.
Gatecrasher's wording in his hospital bed reads:

"Herman, why are you scratching me out of July? You know I could beat that bunch of Mokes on three legs!'
Herman Brown was also known to have been on the beach when Sea Cottage was filmed prior to July 1966.
"I was further up from Blue Lagoon when I heard what sounded like a car backfiring. A fisherman told me what had happened and the killer was a Durban gangster, Johnny Nel," he once recalled. "He was the only guy in Durban with a yellow convertible and was soon caught. He got three years, I think."
Snooker was another sport where Herman Brown excelled.
In 1970 he hit the double and won the Natal Trainer's Championship and the Natal Snooker Champs. He was proud that he had played world number one Joe Davis when he came to South Africa. "After that he told me I could go far in the game," he said.
South African horse racing has lost a legend.
Our condolences and deepest sympathy go to the Braun family.