Sport
South Africa makes itself heard in loudest Cape Town party at T20 Women's World Cup
They lost the final but won everything else as a rich and diverse crowd treated themselves to a memorable evening at Newlands
Firdose Moonda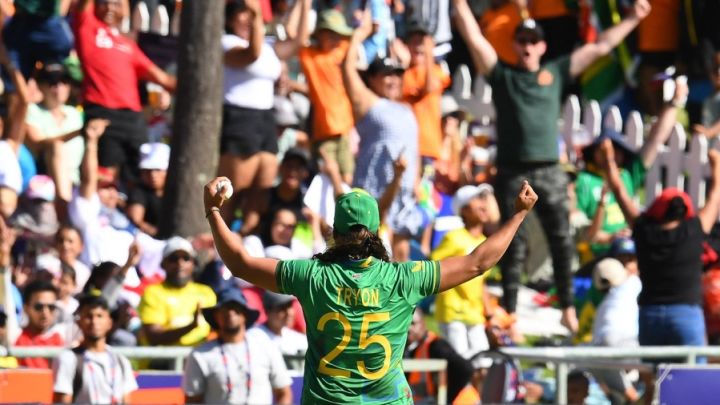 Now South Africans know how it feels. To get to the final. And lose one. They tried, they loved it and in the end they were brought down by a team that is just way better than everyone else in this game. There's no shame in being defeated like this.
Ask any of the 12,782 people who were in Newlands on Sunday afternoon and they will tell you the experience at a sporting event in South Africa was unlike any other. First of all, there have never been so many people at a women's game of any sport in this country, and spectators are rarely as diverse or involved as they are today.
The who's who of South African sport were in attendance, including Francois Pienaar and Siya Kolisi – both world champion springbok captains – and Desiree Ellis – coach of the continental champions women's national football team. Also in attendance were the winners of CSA's newly created U19 Girls' National Championship – essentially a schools competition – which concluded its inaugural tournament yesterday. The fact that those who have seen it all and those who dream of seeing this team speaks for their sporting appeal. Having everyone else tells the story of how they inspired a nation.
Beyond the recognizable faces, there were thousands of ordinary South Africans watching every ball. Many of them were mothers with their daughters who may have seen something that will make them take up the sport; something like possibility and something else like invitation. Seasoned Newlands visitors called this the most inclusive crowd they've seen at a game in this country across race, class, culture and age, and they were truly together, united in joy and hope.
The yo-yo of these feelings ranged from disbelief that a South African side, which dropped their regular captain and lost the tournament's opening game, made it to the final, to anticipation that perhaps they could go one step further, and the crowd watched every ball . When South Africa played bowls, they cheered every point. Hometown hero Shabnim Ismail's six straight points were greeted enthusiastically by wickets. Later, the entire grass bank was literally and figuratively behind Chloe Tryon as she took the barrel catch on the deep square leg. She turned to them with open arms and if they could have, they would all have jumped into her for a massive group hug.
They were patient as Laura Wolvaardt and Tazmin Brits fought their way through South Africa's lowest power play return of the tournament – 22 to 1 – and it paid off. Wolvaardt, also a Cape Town native, showed off a glorious array of shots on the floor. Her chef's kiss was the six she hit against Georgia Wareham at the end of the 14th over, which kept South Africa in the role, but only just.
Newlands witnessed a sell-out crowd for the final ICC via Getty Images
Realistically, chasing 157 against Australia has always been difficult. Not only have South Africa never won a T20I against Australia, but they have only successfully chased points over 150 five times before. They've also never been in a situation where the stakes were so high and no matter how much support they got from the crowd and an increasingly lively Kolisi, it took more than that. It took the kind of game intelligence that Australia has in developed in its DNA and which South Africa will also win if the legacy of this World Cup comes true.
The result of South Africa's performance should not only be more investment in football, but also a greater commitment to improving the national fabric. The first step will be to fully professionalize cricket at this level and deepen the talent pool. Next, a T20 league will be considered. Those are all thoughts for the future as they digest this tournament and South Africa's achievements and realize how proud they can be.
Many teams that unexpectedly reach a final have already shown their best game in the semi-finals. By defeating England – a team they've lost three semi-finals to – South Africa could easily have fallen into that trap and disappeared entirely. They didn't. They put in a brave, competitive performance and fired a warning shot of how much is to come.
Still, it hurt that day and at the moment. Just as Marizanne Kapp couldn't hold back a flood of tears at anthem time and you would have been hard pressed to find dry eye at Newlands as "Nkosi Sikel". iafrica was sung, Tryon let hers run as soon as Australia's victory was confirmed. Luckily they didn't last too long. By the time the post-game presentation took place, South Africa had calmed down. They accepted their medals with a smile, watched Australia collect the trophy and then made a hesitant but necessary lap around the floor to say goodbye to those who stayed behind to cheer them on. There were many.
A South African flag fluttered in the breeze on the grassy bank and a sizeable crowd of fans greeted their best performing white ball side with warmth and love. South Africa lost the final but won everything else.
Firdose Moonda is ESPNcricinfo's correspondent for South Africa and women's cricket