Best
Tcs: It's best to leave when going's good: TCS CEO
MUMBAI/BENGALURU: "If you have to go, it's always better to go when all is well than when everyone is rushing to get you out," said the outgoing executive director and CEO of Tata Consultancy Services (TKS) Rajesh gopinathan in response to a TOI question as to whether his accelerated exit was due to a dissonance with leadership of the company's board.
Gopinathan's sudden exit after just a year into his second five-year tenure as the IT giant's CEO caught investors and analysts unprepared. Multiple brokers – including Morgan Stanley, Citi and Motilal Oswal – said the resignation came as a surprise.
Before the exchange opened for trading on Friday, TCS had Gopinathan (52) and his successor K Krithivasan (58) address the media to the abrupt change. TCS shares opened down more than 1% but recouped losses to close marginally down 0.2% on the BSE at Rs 3,179 a share.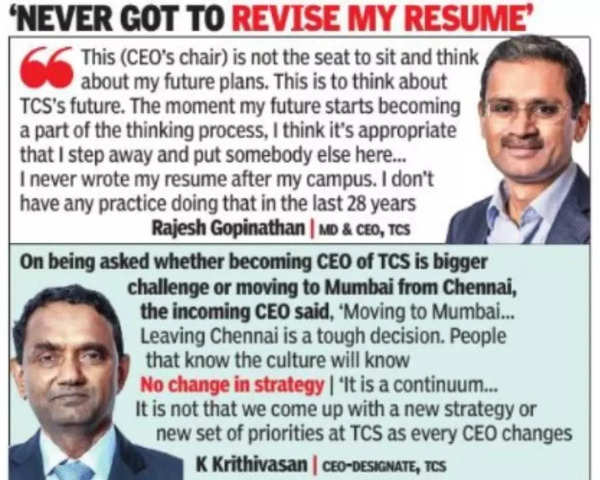 At the time of his departure, Gopinathan said he confirmed his decision a week ago, despite holding talks with the TCS chairman N Chandrasekaran now and then about moving on. Gopinathan took over the reins from Chandrasekaran in February 2017 when he was appointed chairman.
Gopinathan's first five-year term as CEO of TCS ended last year and he was reappointed for another five years through February 2027. said Gopinathan, who began his career with Tata Group in April 1996. He joined TCS in 2001 from Tata Industries.
"I have no idea what I'm going to do (in the future). I never wrote my resume after campus. Tata and TCS have been an integral part of who I am. And whatever I do, they will continue to be an integral part of my life."
Asked by TOI if he would take an advisory role in the Tata Group, Gopinathan said he hated advice of all kinds when he was in an operational role. But his respect for them is growing exponentially. "I'll see if anything comes of it, but I have no plans at the moment."
Gopinathan's employment contract with TCS provides for a notice period of six months. This period ends on September 15, after which Krithivasan will assume the role of CEO.
Krithivasan said he will be working with Gopinathan over the next few months to understand all parts of the business and he does not intend to make any dramatic changes to the organization's existing strategy. "It's a continuum. It's not like we at TCS are developing a new strategy or new priorities when every CEO changes," said Krithivasan, who will be one of the senior CEOs to lead the company.