Latest
Trinity MTB's Latest Bike Places the Cassette In a Can
The Final Version of Trinity MTB's Multi-Drivetrain Gravity Bike

In case you've been sleeping under a rock, Trinity MTB, aptly named for the three mad scientists behind the brand, have been relentlessly developing one of the most interesting and modular gravity bikes we've ever seen. A steel front triangle pairs with an aluminum rear triangle and features an interchangeable drivetrain mount for three systems. On top of that, the high-pivot design can be built into a 200mm travel downhill or 175mm enduro bike, and can accommodate a dropper post.

The latest evolution shows off the capacity of the Trinity to incorporate an enclosed shifting mechanism that can change gears without pedalling, provided that the wheels are turning. Seb Stott covered the first prototype of this nature in November, 2021. This integrated Williams Racing Products' (WRP) CentreHub idea directly into the Trinity frame, just like Honda's iconic RN01.

We caught up with Mic Williams of WRP to see how the process evolved and find out when a product bike will be available to purchase.
---

Can you remind us what Trinity MTB is and who is behind the project?
Trinity MTB was born out of a passion project, more to see whether we – friends of three – could build an MTB frame. This was December 2020. The initial design concepts were drafted by Chase Warner, based out of California. Nigel, Trinity's fabricator, has had a long history in motorsport fabrication and spent almost 20 years with Ford Motor Company. Chase and Nigel had talked back and forth about the process of fabricating such a frame. At this time, Engineered to Slide (Nigel's business) was based in the same facility as WRP (Williams Racing Products). With Mic's (WRP's) background in MTB and engineering, a discussion naturally started between the three of us as to how our skills could be combined to bring this to life. Fundamentally we're all bike riders at heart.

What did you set out to achieve and when did the project begin?
The ethos of the project is a handcrafted gravity bike centered around three ideals: modularity, Virtual High Pivot (VHP) suspension, and gearbox compatibility. This conversation all started in December 2020 and we had a bike (V1) by May 2021. We are now up to V4.
V1 (above) was both a success and a learning curve. Starting from scratch, virtually every nut and bolt was lathed in house and the bike took about a week just to assemble – mainly due to the totally proprietary nature of the frame. The Handmade Bike Show in early 2021 was the milestone for the initial debut. This version was more of a personal accomplishment for us more than a commercial endeavour. However, the traction and attention the frame got at HMBS in 2021 made us question whether this was in fact something worth pursuing.
The latest version, V4, incorporates those three main ideas; it can be run in both 29/27.5 or 29/29, accept either a 205×65 shock for 175mm travel or 225×75 shock for 200mm travel via a flip chip, and is compatible with a standard BB and drivetrain, Pinion/Effigear, or the yet to be released WRP gearbox.

How did you choose the construction method and suspension design?
The suspension design and layout were based around the desire to have a mostly rearward axle-path, very active rear suspension, and creating room in the frame to have multiple drivetrain options. We choose what some may call a "mid-high pivot" where the axle-path is rearward for the first 60% of travel, then starts to come forward again for the final 40%. This allows the rear center to grow just the right amount to keep the rider "in the bike" and not feeling too far forward or back; ability to eat bumps but also jump and corner how it should.
For the suspension feel we wanted it to be predictable in every part of the travel. The beginning and middle of the leverage rate have a relatively static deceleration and then in the last 20% of the travel continues that trend but more rapidly. Starting at 3.2 and ending 2.2 for the 200mm version we get a very sensitive feel off the top, support in the mid stroke, and a bottomless feel at the end. When it comes to pedaling our anti-squat target range is between 120-130%. We found this to have a nice balance of pedal platform without taking away from the active nature of the suspension. Anti-rise is right below 100% at sag which means under braking the rear end stays very stable. It doesn't compress or extend when the brakes are on, the rear end continues to work just like it does when the rider is off the brakes. We played with varying kinematics over all the models to heuristically understand what the maths was telling us and arrive at our ideal kinematic.
We discussed many construction methods and their pros and cons both from a manufacturing and end user (rider) point of view. Things such as carbon and full billet aluminium front ends were all things that were toyed with. From our riding backgrounds, material understanding and Nigel's extensive motorsport fabrication experience we believe 4130 chromoly hasn't been fully exploited in the gravity MTB world. Therefore it was decided to be the best material for us to construct the front end out of and more so it's what we're most confident would give the best ride feel and durability, too. For flex characteristics and its construction to achieve this flex, a full billet aluminium rear end was decided on. There were many revisions to this over the now 4 models to dial in the compliance and rider feel.
Riding-wise, what was apparent straight off were two things: how compliant a 4130 steel front end is when handling DH abuse and how the i-track suspension platform not only handled the rough but also generated speed and gave support where needed. What we wanted to change, however, was the flex characteristic of the rear end. This was billet CNC'd from 6061-T6 and while it tracked the off-camber unbelievably well it was on the lighter gauge of the spectrum where flex was a little too apparent for our liking if pushing the limit.

So, it's a virtual high-pivot with a steel front triangle, aluminum rear end, and modular basement to bolt on three different drivetrains. Did the "cassette in a can" inspiration come from Honda's RN01?
Yes, that's correct. We understand that there are customers out there that may want to run a conventional cassette and derailleur (or perhaps even single speed). However we do believe that in the long term gearboxes are the way forward.

How much does the frame weigh?
As pictured above, the V4-001 Size medium frame, DH equipped, mullet, with a standard BB for normal drivetrain weighs 16.8 kg / 37 lb. The frame only weight is TBA.

Do you have any intention of pedalling it uphill and could you install a dropper post?
Definitely. Below is an enduro version of the build with a 180mm Fox 38 fork and 175mm of rear travel via the flip chip to run a 205x65mm shock. Our seat angle is 78-degrees so is well capable of enduro riding when paired with a dropper of up to 200mm. We also have an Aenomaly SwitchGrade so you don't look like a dork while descending.

You also built your own freewheeling chainring to shift a standard drivetrain that doesn't require you to pedal. Can you tell us more about that and how it evolved to the Trinity?
The CentreHub is a WRP product. It's a freewheel at the crank but also has some neat modularity features, one being that the "cassette in a can" gearbox borrows part of the CentreHub design to be able to axially offset the chainring to the centre of the frame (chainline of 0mm). The gearbox also comes into its own when paired with the CentreHub; the initial gearbox designs used the original CentreHub with a sprag clutch freewheel for seamless shifting – the latest gearbox is adaptable to the yet to be released bi-directional CentreHub, to counter kickback experienced through a box.

What is different between the CentreHub and the Trinity MTB's "cassette in a can"?
To shed some light, WRP and Trinity are two separate entities. The CentreHub and the "Cassette in a Can" gearbox are both WRP products. Trinity MTB is a frame company (of which WRP is also part of, along with Nigel and Chase).
The CentreHub product is a front freewheel that adapts to a conventional drivetrain (or the WRP gearbox). It can allow gear changes while coasting (or pedalling, of course) and some suspension isolation. There's a new CentreHub on its way that you might have seen that is bi-directional and can spin both ways for total suspension isolation. That's maybe a whole write-up on its own.
The "cassette in a can" is a chain-driven gearbox using all standard drivetrain parts (cassette, chain, chainring, tensioner, etc). In this case we've used all SRAM 12-speed stuff. The gearbox mounts in the frame between your cranks instead of at the rear wheel/off the swing arm.
There's a huge advantage in having the CentreHub adaptable to the cassette in a can. WRP being the proprietor of both means we made them integratable.

What were the major changes from V1 to V2?
For various reasons we also decided to go with a fully 3D printed lugged design for V2 – head tube, down tube to lattice cone, seat tube to lattice cone and seat tube to top tube cone. This meant we could straight cut the seamless 4130 tubes without any mitering or notching, in theory making less manual labour.
This bike was tested a lot, both locally and internationally. The rear end's issues were rectified by making the thickness of the stays about 30% wider and the addition of vertical supports in the Warren Truss pocketing on the inside of the stays to help with the torsional flex of each stay. This frame had the option of both the i-track idler design or a fixed idler position so we could test this back-to-back

What were the noticeable changes of the i-Track idler versus the fixed one?
What we liked about the i-track was the increase in the rate of change of the anti-squat curve, among other things. This meant it had high pedalling efficiency and generated speed out of turns, but then fell away when deeper in the travel, which translated into reduced rider feedback when hitting something big. i-track kind of feels dynamic, in the sense that the axle path isn't concentric or follows the same path to that of the idler, so at any point in the travel the effect that the idler is having on the suspension is altering. This also means that with tiny adjustments in idler position we can tune the effect that the idler has on the system.

The chainstays on a high-pivot grow from the static to sagged position. What have you learned from the ride dynamics of this suspension design and have those numbers changed throughout testing?
For sure. It's really important to understand a bike at the sagged position and even the difference between static and dynamic sag. Because the rear centre grows with a high pivot, the ideal rear centre coefficient needs to be calculated about the sag point. For example, on the T1 frame (medium), we have a reach of 440mm – the rear centre being 455mm at 30% sag (440 static). This sets the weight distribution at 40/60 (r/f) at sag which we believe is optimal for the height range of riders on the T1 size.

You ditched the 3D-printed cones. What was the reasoning there?
While the rear end we were becoming increasingly happy with, the front triangle's construction presented some ill-preferences we didn't foresee; having the printed lugs adjoining the seamless tube meant that this junction was effectively butted (had a double layer of material). Leaving enough contingency of printed material meant this butt was quite thick compared to what it would otherwise be with a butted seamless tube. Not only did this add weight, it made these junctions incredibly stiff and took away from the character and compliance we loved so much about the front end of V1.
We also wanted to update the reach and axle-to-crown for better handling.

It can be a little unnerving testing new bikes and parts. Did you have any issues with the hardware or tubing?
It is – especially at events in the public eye – but we have always had faith in the construction. We did a week of testing on V2 in Queenstown, NZ right before CWX Cairns. This was a fantastic opportunity to learn more about the bike and its character. While there we had a fork failure that ended in a rather large crash and our beloved V2 cartwheeling over the edge of Skyline. It resulted in a compromised rocker section which we could have fixed prior to Cairns CWX, but with the event so close and V3 imminent we decided it'd be a great opportunity to build a bike with the updates we wanted to make from things learned about V2; geometrically speaking we wanted to address the reach and axle to crown.
To answer the question, no, other than that anomaly, nothing at all – much to our comfort. 4130 seamless chromoly has proven to be bulletproof, as we expected. Likewise with the hardware – this is all a 7000 series alloy. We made an update to the chainstays on V4 mainly to future-proof, but other than that the billet rear end has been sweet.
To address V3 frame updates, this frame had a very similar rear end, however most notable was the "hybrid lugged" front triangle – consisting of only the DT and ST cones 3D printed this time. We wanted to reinstate the traditional mitered and notched tubes to allow the handling and compliance of the V1 frame and to stay true to the hand-built ethos. Due to the complex shape of the DT and ST junctions, we left these two prints, albeit with updated structural properties and thicknesses. V3 was finished the morning we flew to Cairns and hadn't been ridden prior to the event.

How was it received by the public at all of those events?
Cairns was a success for us as a brand, but more importantly clarified to us that we might actually have a half-decent product from the positive interactions and media surrounding the bike. Interactions like this light creative fires with us in regards to how we can make the bike better; listening to the opinions of other MTB lovers, both good or critical, makes us want to create a better product.
On a personal level it sucked getting a front flat when it came time to race it. Can always be better.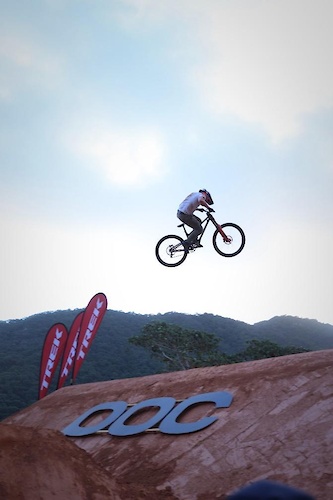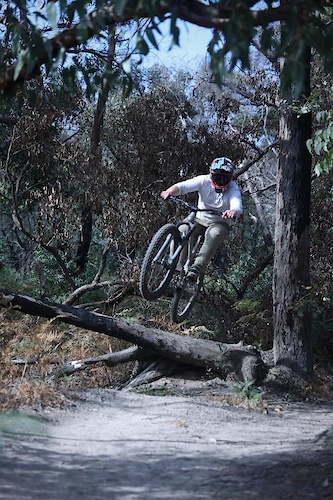 You've been doing a fair bit of the testing yourself. Can you rewind a bit and tell us about your riding background?
We all have a riding background in MTB. Mic (WRP) has a history in BMX racing before starting to compete in MTB events in 2018. As a privateer raced a few DH World Cups a few years back and continues to compete in Crankworx and other events.

Who else has been riding the prototypes?
We ourselves have ridden V1, 2, and 3 due to the early stage prototype nature of the frames. Some talented riding friends rode them around as well but not extensively. We built two V4's (001 and 002) and are happy enough that we're now building a few non-public frames for other riders.

What does the final product look like then?
We got home from CWX itchy so we went straight to work on V4. When it dropped out of the jig in early December 2022 all three of us knew this was the one; the updates we wanted to make geometrically and structurally were now all accounted for. It's in line with our roots and original design ethos; it's handmade in Australia and is an amalgamation of all the good parts of each predecessor who now hang proudly on the Trinity wall. It'll very closely resemble the bike that'll be available for pre-order.
V4 has no 3D prints; we're glad we experimented with this option but it's not for us. Its front end is closer in construction to V1 however geometrically updated to the things we learned in V2 and V3. The bent top tube directly joins the main pivot to the head tube, meaning the seat tube isn't a structural member in the traditional sense, so it enables the TT to better flex along its length and to emphasize the compliance and rider feel that 4130 offers. The DT cone and the ST junction are press formed over a die in house from 1.6mm 4130 sheet to achieve the shapes we require
. Its lattice section accommodates a standard BB, a Pinion Gearbox, or the soon to be released WRP cassette in a can gearbox. The rear end is also an amalgamation of the best parts of the previous 3, and some. The rear end is billet 6061-T6 with Warren Truss (with verticals) CNC'd pocketing. However, the stays are now modular, too. This means that, in situ, the SS's and/or bridge could be swapped out to refine the flex characteristics of the bike, depending on track conditions or personal preference. We settled on a base flex that's stiffer from V1 but flexier than V3 – similar in flex to that of our V2 frame.

Can you tell us about the pricing and availability of the Trinity MTB? Do you have a model name picked out yet?
There are a few tiny things that we are including for "V5" (the commercially available model). But to the naked eye, V4 resembles very closely what'll be available from Trinity MTB. Our pre-order mailing list is live on our website. We don't have a name picked out – mainly because everyone just seems to know it as a Trinity?
---