Guide
Young entrepreneurs learned how to run a business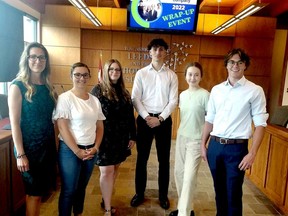 content of the article
A group of young people from the area experienced being their own boss this summer.
content of the article
Leeds Grenville Small Business Center completed its annual Summer Company program on Thursday.
The program provides hands-on business training and mentoring to participants, who receive a bounty of up to $1,500 in early summer to help with business start-up costs and an additional $1,500 in the fall upon successful completion of the program and Proof of return to school.
This summer, five young entrepreneurs in Leeds and Grenville used their creative talents and community support to run their businesses.
The closing event took place at Leeds Parish Council Chambers and the Thousand Islands Municipal Office. This was the 22nd year the program had been running.
Arianna Bennett, 16, of Gananoque, caused a splash of color this summer with her shop, The Islands Sweet Treats. She sold fresh cotton candy and flavored shave ice.
content of the article
Bennett will continue to sell at events in early fall, and her cotton candy may even be available at local stores throughout the winter. She is returning to Gananoque Intermediate and Secondary School this fall for Grade 12.
"It struck me that no one else had anything like this (flavored shaved ice) at the markets I've been to," Bennett said.
Emily Jollota, 19, of Brockville, used her artistic talents to create resin art with her company Jollota Designs this summer. She made jewelry, bookmarks, keychains, sausage boards, and more.
Jollota sold her products at the Brockville Farmers' Market this year. She will continue to make resin art this fall. Jollota is returning to Laurentian University for her second year in business.
content of the article
"I saw a TikTok video about it, fell in love with it and decided to join," Jollota laughed. "It was a truly wonderful experience. I'm a natural receptionist by trade so I know how to talk to people, start conversations, take feedback and it was all a wonderful experience. It was a lot of fun to be in such a busy market."
Evan Munro, 18, of Brockville, offered individual basketball practice sessions and group basketball skill training at various locations this summer with I Believe Training. He catered his training to every skill level and a range of age groups, from six year olds to teenagers.
Munro said he enjoyed sharing his skills and knowledge with young people and learned a lot from his experience. Munro is starting his freshman year at Queen's University in Health Sciences. Munro is also the winner of this year's Growth Awards, receiving an additional $200 for his efforts.
content of the article
"My model was, instead of the parents driving the kids somewhere for an hour's work, I would drive them home, eliminate the 30-minute drive or however long it would take them (to get to me), and I would go to them instead. It gives them the opportunity to stay at home and still get the training," he said.
Janevra Pier, 17, of Gananoque, baked fresh vegan sourdough bagels using locally sourced flour with her business, Bakery by the Pier. She also experimented with vegan spreads to accompany the bagels, as well as other sweet, healthy treats.
Pier sold her bagels at the markets and events around Gananoque and online. She will continue her business on a casual basis this fall. She is returning to Gananoque Intermediate Secondary School this fall for her 12th year. Pier is the winner of the Award of Excellence. She received an additional $200 for her work this summer.
content of the article
"The goal was to highlight local ingredients," she said. "It was a community bakery. I had heard about this program some time ago and since my family has always had a passion for cooking, I didn't see cooking with values ​​behind it that aligned with my own. So I wanted to highlight local food, organic food and sustainable farming and show that this is a viable business model. This was a heart project for me, with values ​​that I grew up with and that are very important to me. My grandfather was a farmer, so we've come full circle."
Jack Sloan, 18, of Elizabethtown-Kitley, provided lawn care, edging, pressure washing, window washing and other property improvement services in and around Brockville this summer with Good Neighbor Lawn Care.
content of the article
Sloan said he wanted to instill that sense of goodwill and neighborhood by helping people with their outdoor work. He feels he has achieved that. Sloan was announced as the highest-earning player this summer. He's going to Wilfred Laurier University this fall to begin a degree in business administration.
"I did all the jobs you didn't want," Sloan joked. "The skills I've acquired are all the skills I'll take with me as I get older and eventually move into my own house. They are valuable skills. And I met and interacted with people. It was great."
(Keith Dempsey is a Local Journalism Initiative reporter working for the Brockville Recorder and Times. The Local Journalism Initiative is funded by the Canadian government.)